In these challenging times, it is even more important that we work together.  At King's, our partnerships team is looking at ways we can best support our partner schools and the local community during this period.
Over the coming weeks and months, schools can really help each other, and connections between students and colleagues will be increasingly important.  Already, schools are sharing methods and tips for running lessons virtually.  There has been a heart-warming display of generosity online as educators share their learning resources freely; keep in touch with us through Twitter to access these. Read our blog about the importance of kindness.
But more of a priority than this is student and staff well-being.  The social isolation will be a challenge and already causing considerable anxiety, so bringing people together virtually will be crucial – whether for learning, relaxation or therapy.  Vulnerable families and their children will need special help, and we will collaborate wherever possible to support the local community.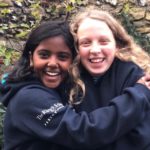 East Kent Schools Together partnership, of which we are a member, is collating a growing suite of online resources on its website.
Stay safe, and see you soon.