Our commitment to partnerships reflects our core belief at King's that collaboration with other schools and community groups benefits all of us.
Our partnerships are always for mutual benefit. Our pupils grow in character and resilience by widening the circle of people they meet and developing leadership skills or volunteering experience. Our teaching staff build local networks and share good practice by meeting with colleagues from other schools.  We are proud of the multi-school partnerships we have fostered, but the quiet one-to-one reading help or maths lesson is just as important.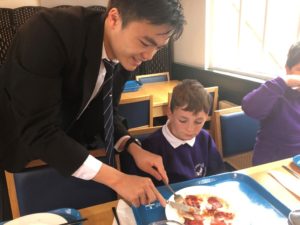 King's has a long tradition of sharing resources with the local community in accordance with its charitable aims and you will see examples on these pages of how we open the school to others to access our academic teaching and enrichment expertise, facilities and events. Please get in touch if you are interested in partnering with King's, or wish to support our partnership programme.