Canterbury Primary Science Partnership was launched in 2014 in recognition of the challenges of teaching science at primary level. We began with 10 primary schools and have now expanded to over 20, with more schools requesting to join all the time.  Through CPSP the King's School is able to share its laboratories, resources and teaching expertise in science, including giving our pupils opportunities to volunteer.
The partnership received a seed-funding grant from the DfE allowing expansion of activities following the success of the Saturday Smarties masterclass programme, but is now fully-funded by The King's School.  CPSP aims to raise the attainment of pupils in science and to enhance the subject knowledge and confidence of teachers in delivering science lessons. Our most recent impact evaluation showed that over 99% of pupils feel that their knowledge improved across all workshops and in all schools.
Teachers report: "being able to share ideas, resources, stories and ideas has been a fantastic boost in confidence" and "during our recent Ofsted inspection, the inspectors were … pleased with how we have begun to utilize the partnership to effectively develop the quality of teaching and learning."
The DfE published a case study on CPSP in their Independent and State Schools Partnership (ISSP) – Impact of and Lessons Learnt report, August 2017.
https://assets.publishing.service.gov.uk/government/uploads/system/uploads/attachment_data/file/636291/RR682_-ISSP_evaluation.pdf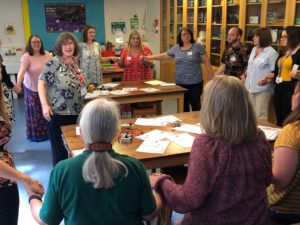 CPSP offers schools a number of benefits in return for a commitment to the partnership:
Termly meetings for science subject leader to share good practice and resources (e.g. recently subject leaders met to write a skills progression document)
Teacher CPD (e.g. teaching electric circuits; evolution; gears, levers & pulleys; classifying plants)
Pupil workshops and science-themed assemblies
Science shows (e.g. Greg Foot on explosions)
equipment loan (rocks and fossils, electrical apparatus, etc.)
Free resources, subscriptions and discounts through our increased buying-power.
The schools who have enjoyed being in the partnership in 2019/20 are: Aylesham Primary School, Barham Primary School, Bridge & Patrixbourne CEP School, Chartham Primary School, Chislet CEP School, Dymchurch primary, Hoath Primary School, Littlebourne CEP School,  Luddenham School, Milstead & Frinsted CEP School, Parkside Community Primary School, Petham Primary School, Pilgrim's Way School, Sheldwich Primary School, St John's CEP School, St Peter's Methodist Primary School, St Stephen's Junior School, St Thomas' Catholic Primary School, Sturry CEP School, Water Meadows Primary School, Wickhambreaux CEP School and Wincheap Foundation Primary School.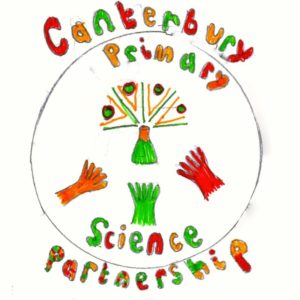 Please note we are currently updating this site. Please visit again soon for links to resources and meeting notes.