*NEW* week beginning 18 May:
SCIENCE ACTIVITIES
a) Have you found #LetsGoLive yet?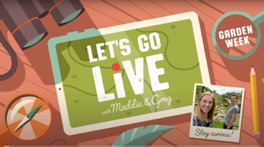 The wonderful Greg Foot and Maddie Moate are doing a live science show on YouTube at 11 am every day: https://www.youtube.com/channel/UCQ0_JQL4wdQd-Xe5hC4PwTg?pbjreload=10.  Loads of fantastic activities! Greg and Maddie are Blue Peter/CBeebies stars and Canterbury residents – Greg has done science shows for CPSP in the past, so do support them!
b) Nature Scavenger Hunt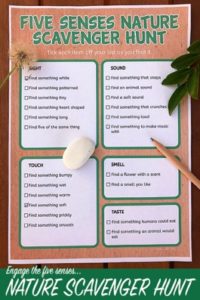 This is brilliant for EY/KS1 to encourage them to use all their senses when out on a walk in the country over half term, or in your school field. Printable version sent with email and available online. Do share any photos with us!
SCIENCE FILMS
How big is space?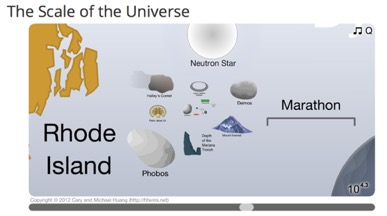 This week's recommendation is https://scaleofuniverse.com: an incredible interactive website where you can explore the sizes of objects from atoms to galaxies!  You'll love it!
Happy half term everyone!
Week beginning 11 May:
a)  Origami animals: https://www.nhm.ac.uk/discover/origami-tyrannosaurus-rex-dinosaur.html
The Natural History museum had a tutorial on origami dinosaurs.  Year 12 pupil Hiu Yu says: "I think origami is a nice activity because there's no risk and everyone has paper to make them."
We'd love to see photos of the finished product!
b) Virtual tour of the science museum: https://www.sciencemuseum.org.uk/virtual-tour-science-museum
This is brilliant!  You arrive on floor 1.5, and I suggest you head straight down to floor 0 (see 'lifts' on the right of the screen), then turn around 180 degrees, go past the ticket desks and you'll head into my favourite section: SPACE!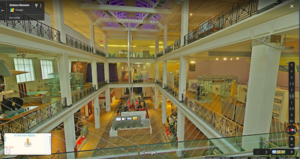 If you visit, why not write up your "Virtual Day Trip to the Science Museum" and share it with us?
c) if you enjoyed the 'Kitchen Science' fizzing experiment last week, you might like Steve Spangler's amazing videos.  Here's one of my favourite experiments, the density tower: https://www.stevespanglerscience.com/lab/experiments/density-tower-magic-with-science/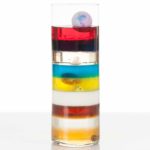 d) and for a bit of relaxing viewing, with amazing film footage, you can't beat David Attenborough.  Head to BBC iPlayer to watch series such as Blue Planet II: https://www.bbc.co.uk/iplayer/episodes/p04tjbtx/blue-planet-ii
Week beginning 4 May:
a) A fun art/craft project which can also teach a bit of science and maths is to make a paper twirler: https://artfulparent.com/paper-twirlers/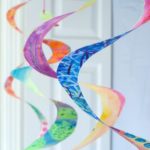 You simply cut out a spiral from paper or card – which you can decorate first – and hang it from the middle by some thread.  If you hang it above a heater (in winter anyway!) the warm air rising bounces off the spiral arms and makes it turn.  This is called a convection current.
You might have an elderly neighbour who would appreciate one of these to make their home look more colourful; otherwise, the King's School can deliver to a care home.  Let me know!
b) And this is a lovely collection of activities for all the family: https://www.exploratorium.edu/snacks/collection/family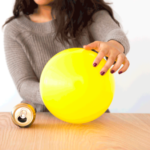 In this example, you rub a balloon to make it static, then use the static electricity to make a can roll!
c) OK, as promised I had a go at making my own film of some fun "kitchen science" experiments!  Feedback welcome – and I hope that this will encourage some of our students to try making some films, and maybe your children too?  https://vimeo.com/415932994<iframe 
Week beginning 27 April: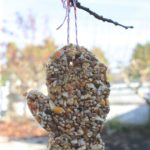 Make a bird feeder: with less traffic and cleaner air, we've noticed much more bird life and birdsong. Why not encourage birds to visit outside your window or your garden by making this bird feeder from simple materials?
Can you spot some birds visiting?  Maybe even take a photo or see if you can name some of them?
Instructions (and other projects) here: https://mamapapabubba.com/2012/11/14/cookie-cutter-bird-seed-feeders-a-toddler-friendly-method/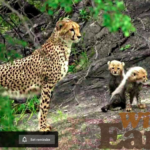 LIVE safari: every day at 2.00 pm you can join the Wild Earth team on a live safari and spot lots of amazing animals!  Set a reminder for 2pm and join the team on a jeep through the African wilderness at https://youtu.be/vx-kYCQECpk
WildEarth's safariLIVE is an award winning, expert hosted LIVE safari, broadcast directly from the African wilderness into your home. Available on both the internet and television, this show enables you to interact with an expert game ranger in real time. Safari vehicles, guides on foot, drones, balloons, rovers and remote cams are all searching for their favourite characters. Completely unscripted and unpredictable – this show is reality TV as it is supposed to be. Authentic and REAL.
_______________________________________________________________
Other science resources we love!
Science Sparks including a great booklet with lots of good ideas for early years but also for older primary pupils
Recommended science books for younger children 
Primary resources for science, Geography and DT from BP Educational Services
The CLEAPPS website has these great resources for science experiments at home.
KCC have some home education resources and ideas
The Eden Project's free resources
Visit museums all over the world and hang priceless paintings in your room! Lots of amazing ways to explore a huge catalogue of works with Google Arts & Culture
Supporting children and young people with anxiety
Lots of creative projects and creative links from Artis Foundation
Thanks to the STEM Hub at CCCU for these resources: 
Encounter Edu – Live Lessons  Encounter Edu designs and delivers sponsored STEM and global learning programs, transforming education inside and outside the classroom. You can sign up for this resource for FREE and join scheduled Live Lessons, broadcast online. There are free downloadable teacher books with lesson plans and resources, as well as opportunities for students to take part in remote learning, using their upcoming broadcasts.  
FutureLearn features free online courses, with a huge variety of subject areas, from picking up some words in a new language, to learning about nature or the creative arts. Learn a new skill as a family, using videos and interactive online lessons. 
Spot Spider Monkeys! Perfect for some home science, Zooniverse and the BSA need Citizen Scientists to form an armchair army! The task: protect the forest by finding spider monkeys. How? Using thermal imaging cameras, feedback online on the images where you can see monkeys glow! Watch a short video, look for any monkeys and just tell us "yes" or "no". Only 17% of the task is complete, so join in and help out! This would be a lovely classroom starter/plenary, or a home learning activity. Visit the British Science Week website or click here to find out more! 
The Royal Institute in London has an online section containing a series of short films making it fun, easy and cheap to do science experiments at home with your children. The films give you lots of ideas for activities that will help you explore the world around you, question and experiment together. There are 'hands-on' activities with plenty of learning opportunities and a chance for fun! 
The STEM Learning website has a dedicated section of their website specifically designed for parents/carers to engage their children in activities that inspire them to learn more about the world of Science, Technology, Engineering and Maths. Simply Google: STEM Learning Parents, or click here. 
The Great Science Share    – The annual campaign to inspire primary and secondary children to share their scientific questions with new audiences runs again for 2020. GSS encourages students to ask and investigate their own questions – with no boundaries! Students can share work they have done in school or at home, with the community. The website gives guidance on organising a sharing event, as well as scientist answering children's questions in videos, blogs and Twitter.  
CREST is a scheme that inspires young people to think and behave like scientists and engineers. The awards include resources with all the activities needed for every age range. It could be done as class activities, as a STEM club, as a whole-school initiative… some of the activities could be done at home using everyday household items. Resources are free to download, and children can be certified form £1 per child. Find out more at www.crestawards.org  
Regreen the Desert Practical Action , a charitable organisation, has launched a Regreen the Desert campaign – an exciting NEW STEM challenge suitable for pupils aged 8-16 years. The challenge inspires pupils to develop ideas to address a real-life problem caused by climate change. Their challenge is to capture rain water to irrigate crops for a community living in North Darfur, Sudan. There are free downloadable teacher and student packs available online.