Over 140 school children from nine local schools took part in the Canterbury Minilympics sports day, to encourage active and healthy lifestyles.
Pupils, aged eight and nine, and their teachers got involved in a day of team athletics and sports science tests at the Birley's Field on Monday, 11 June, which was organised by the University in partnership with The King's School.
Triple Olympian Hockey Player Jen Wilson, gave the pupils motivational talks about the benefits of excelling in sport and activities included cricket skills run by Kent and England Women's cricketer Hannah Jelfs and International cricketer Susie Rowe.
Pupils participated in field testing and athletics which included throwing, jumping and running relays, which was organised by King's School staff and students, Spires Academy 'sports leader' students and CCCU's SportsLab team.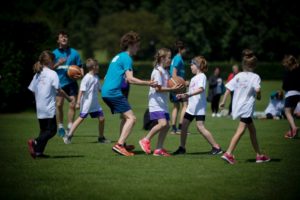 Women's Kent Cricketer Hannah Jelfs commented on the day: "It's fantastic to see so many young people getting involved with cricket," she said. "There was an element of both enjoyment and competition which is really good. It's so lovely to see everyone smiling and laughing."
The teams enjoyed a barbecue lunch and were also given a nutritional talk by Sports Nutritionist Christian Smith. Minilympics celebrates encouragement, teamwork and effort rather than sporting excellence, and the team captains nominated a "sporting star" from their team to win a trophy.  All the children went home happy, with a Minilympics T shirt and a medal to remind them of the day.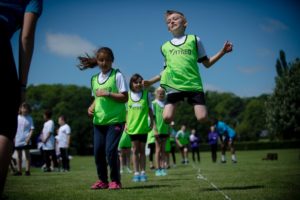 Dave Newhouse, PE Teacher at Hoath Primary School and Chislet Church of England Primary School spoke about the event. He said: "It's organised, relaxed but a really fun event for the children. It's a fast-paced day and really interesting for the kids."
Another teacher, Sarah McLanaghan from St. Peter's Methodist School, commented: "The children enjoyed themselves so much and it was lovely to see even the non-sportiest tackling the activities with enthusiasm. They haven't been able to stop talking about the fun that they had, and quite a lot are still wearing their medals! The event was so well-organised and I can appreciate just how much work must have gone into it from your side."
Ryley Collins, who is in Year 4 at Chislet Church of England Primary School, said: "I loved the field testing, especially the sprint speed and agility – it was ten out of ten. I loved the talks from the Hockey Olympian and about not having so much sugar because I love football."
Hoath Primary School pupil, nine-year-old Lexie Williams, also said she enjoyed the day. "I like that not everything has been the same. The field testing was good and I've had such a good day."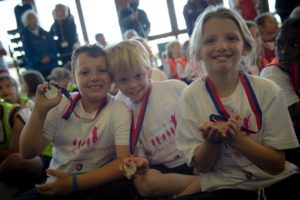 Christina Astin, Head of Partnerships at The King's School said: "King's is delighted to be collaborating for the fourth year running with Canterbury Christ Church University. "It's great to see our students developing their sports leadership skills, together with students from Spires Academy. It's always good to see the sun shining and the facilities being used for the good of the community."
We would like to express our thanks to the organisations who sponsored this event: Bidfood, Coombs, NCS Technology, Woodley Coles, Brighter Homes, Betteridge & Milsom and Sturts.