The King's school were pleased to host the first meeting of the Kent SENDCo Group with a talk by the amazing Sam Garner. Sam is a qualified mental health practitioner and has worked in educational settings from primary to post 16 as a SENDCo and mental health specialist. She therefore understands the real challenges faced in education and is able to offer advice and support in a way that is easily implemented.
36 SENDCOs and Examinations Officers from across 20 schools came to hear Sam talk through access arrangements and differentiation. Not usually the most exciting of topics, Sam managed to deliver a fun and engaging morning talking about access arrangements and and afternoon's talk on differentiation. There were lots of opportunities to ask questions and for guests to network during coffee and lunch which was held in the refectory of St Augustine's.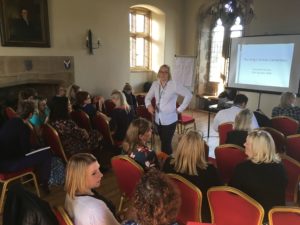 We have had wonderful feedback from the event with lots of people saying how useful and well delivered the information was,"It was to the point and interesting", how great Sam Garner was,"a brilliant speaker" and lovely comments about the venue, "loved the room and the history behind it. There was a warm welcome and tasty refreshments provided".
We are really looking forward to our next Kent SENDCo Group event in the new year.