It is widely reported that singing in a group can greatly enhance an individual's well-being, build confidence and improve physical health. So what's not to love!
The EKST Big Sing partnership choir is made up of students from each of our partner schools and in our second year of rehearsing and performing the choir is proving to be a real hit. The brilliant Lemon Otter, our choir leader, rehearses the students with support from Adam Button, and ensures the students realise their musical potential whatever their experience.
We are delighted that three students who took part in the most recent performance at The Kent Teacher of the Year Awards in May 2019 have taken the time to tell us about what being a part of The Big Sing meant to them.
"The Big Sing has given us the opportunity to join with other schools and create a performance to bring to the community and create a smile across people's faces. Confidence is something that might not come easily to people but standing with people in the same situation as one whole group boosts our confidence and makes us want to perform to our best ability. It enables us to go out of our own school environments and meet people we have never seen before. As we meet new people we are able to hear our range of voices and bring them together to create a great sound. As a student of Herne Bay High School, I think it was a great experience to be with other people in the same situation performing outside of school singing which I have never done before. After this opportunity,I will look forward to performances in the future." Kierney and Eva, Herne Bay High School
"I am a student from King's, and this was my first time singing at an event since coming to this school. It was such a good way, not only to become closer with the people who I am now singing with every week, but also to be able to meet people I have never seen before. Although sometimes talking to people for the first time can be scary, when I sang with them it made talking so much easier! I also think it's a really non-judgmental environment, and so even if you are not the world's best singer (I know I'm definitely not), you have no reason to feel uncomfortable. All in all, I can't wait till next time!" Eliza, The King's School
The Big Sing meets the core aims of EKST by building confidence and resilience, breaking down boundaries amongst our students and creating new opportunities outside of the curriculum for students in East Kent. A big thanks to all involved; students, teachers, mini-bus drivers, the KM Charity Team and of course Lemon and Adam. Looking forward to the next performance in June at Turner Contemporary.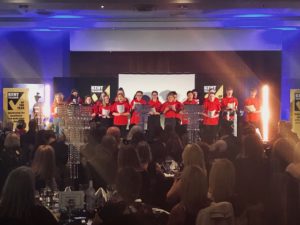 This article first appeared at www.EKST.org