Teachers and technicians from 10 different schools gathered at King's today at the start of a new scheme to lend apparatus to support science teaching.  The Science Boxes scheme will launch in September and schools will be able to borrow 10 different boxes of kit, all chosen to help support GCSE physics.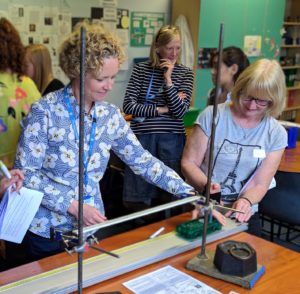 Membership of the loan scheme is offered at no cost to state schools and boxes can be borrowed for periods of 3 weeks.  Some items, such as signal generators and centre-zero microvoltmeters are expensive for schools to buy, so sharing them in this way seems sensible.  Schools can apply to join the scheme here.
The teachers and technicians attending today were able to have a go at setting up and using each piece of kit, led by members of the King's School physics department.  Technicians Ian and Will were on hand to answer questions and give tips about the apparatus.
It is hoped that the library of kit available to borrow will be increased in time, and that this initiative might spark a wider sharing of apparatus amongst local schools in future.