To celebrate the first year of our Exploring Classics project we invited our year 8 Classicists from Spires Academy and their parents/ carers to a tea in the Headmaster's office.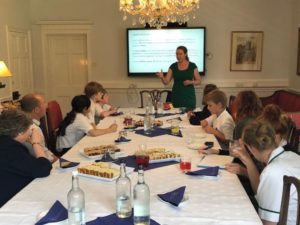 The students have been coming to the King's School Classics department fortnightly over the past year to learn about ancient Greek and Roman civilizations and Latin. They have been taught by 5 of our King's School classicists, overseen by Dr Georgina Longley, who have delivered the lessons and prepared the resources in the weeks the students weren't in. Lessons ranged from learning about the Greek Gods, designing their own mythical creature, writing a Roman slave diary, Latin vocabulary and translation and Greek tragedy mask making.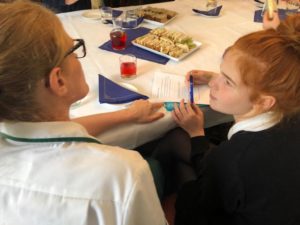 At the celebration the Spires classicists came along to show their families and teachers what they had learnt and it was obvious how much the children had enjoyed the sessions. They completed a piece of Latin translation and then completed a quiz on the Greek Gods. They have worked very hard this year completing homework in the weeks they aren't at The King's School and have astounded all those involved with the project with their enthusiasm and how quickly they have picked up Latin, with many wanting to continue with it next year.
The Spires students really enjoyed learning from the King's students who, in turn, loved volunteering for the Exploring Classics project and working with the year 8s. David, one of our King's volunteers said "It was such fun. I love Classics and I have loved sharing it with the Spires students. I can't wait for next year."