More than 150 Year 5 pupils from 10 local primary schools were treated to a day of team sports at the end of September at The King's School playing fields to encourage active and healthy lifestyles. Postponed from June due to torrential rain we were rewarded with a bright sunny day for our Minilympics event which is now in its fifth year. The event is a joint Partnership initiative between Canterbury Christ Church University and The King's School, Canterbury.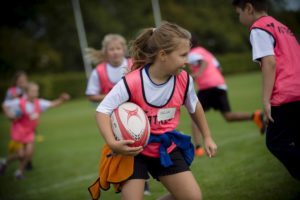 The pupils were divided into teams, mixing schools and had a CCCU Ambassador as a team leader. Pupils participated in touch-rugby and various athletics events, including throwing, jumping and running relays, organised by King's School students and staff, Spires Academy students who are part of a sports leadership programme and Christ Church SportsLab staff. The teams were also given a talk on healthy food choices by Christ Church Sports and Exercise student Zsara Finch. At the end of the day, pupils were awarded medals, goody bags and trophies by Councillor Terry Westgate, the Lord Mayor of Canterbury.
During the day the nine and 10-year-olds were joined by Olympic hurdler, Jack Green, who spoke to them about his experiences at the Olympics and World Championships.
Christina Astin, head of Partnerships at The King's School  said "It's great to see King's students developing their sports leadership skills, together with students from Spires Academy. It's a pleasure to see the sports facilities being used for the good of the whole community."
Clare Pearson, Teaching Assistant from Bridge and Patrixbourne CEP School, said: "It is such a great event to see all the children having a good time. The sports leaders are fantastic."
Minilympics 2019 was sponsored by local businesses DDS Environmental, Bidfood, Coombs, NCS Technology, Cryotron Consultancy Ltd, Brighter Homes, Betteridge & Milsom and Sturts.
We are starting to plan our Minilympics event for 2020 and are looking forward to a sunny day on 8th June!