We were delighted to welcome 32 year 2 children from Sheldwich Primary School to the King's school for an afternoon of fossil fun.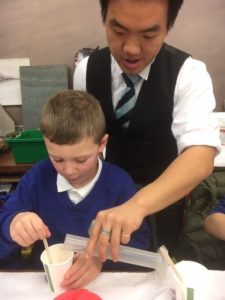 The children visited our geology labs and were shown an amazing array of fantastic fossils and facts about dinosaurs by our Head of Earth and Planetary Sciences, Mike Mawby. They really enjoyed being in a lab surrounded by such awe inspiring fossils and dinosaur bones.
'I had a good time in the lab because I felt like a scientist'  – Jake Year 2
Helped by our student volunteers the children made casts of fossils, were able to see the wonders of our augmented reality sandbox and have a fossil lucky dip where they took a fossil and fact sheet home with them.
'I liked the fossil making part because the teacher was really fun!' ~ Florence, Year 2
The children were divided into two groups and whilst one group were in Mr Mawby's lab the others visited the Cathedral for a tour. They then swapped over.  On the tour they looked at the materials used in the building and learnt about the fossils that have been found by the stonemasons and also those in the Cathedral.
'I really enjoyed the Cathedral walk' ~ Leo, Year 2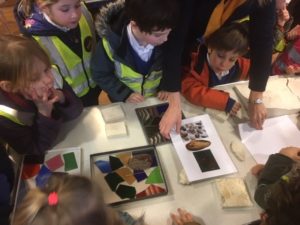 It was a very busy afternoon with all the children leaving full of an even greater love of dinosaurs and fossils.
'We had such a brilliant afternoon at The King's School. We were accommodated so politely by the staff and the students and my class had so much fun in the Geology lab making our own fossils and learning about where they came from.' ~ Mr Daintree (Year 2 Teacher)