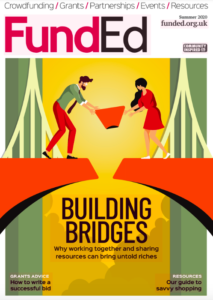 We are delighted that East Kent Schools Together features in the cover story in the current issue of FundEd magazine.  FundEd approached us as EKST partners to comment on the effectiveness of cross-sector partnerships in sharing costs and enriching what schools are capable of on their own.
If we've learnt anything from the Covid 19 crisis, it's the value of collaboration – and the benefits and rewards that spring from communication and sharing. Many schools are already working in partnership to achieve common goals in a difficult financial climate, and to offer their students greater opportunities. So we've profiled some successful initiatives to inspire your forward planning – whether you want to raise money, save money, improve provision or raise student aspirations. Jane Hughes, Editor
Kent is one of the few counties that retains a grammar school system – a situation based on educational segregation that is open to charges of elitism. So it's interesting that a cross-sector partnership between non grammar and independent schools in the county has emerged as a success story of effective collaboration.Established three years ago, East Kent Schools Together (EKST) has attracted thousands of pounds in funding for its extra-curricular student development programme, and is saving partner schools substantial sums through shared expertise, venues, resources and online subscriptions.
'East Kent has a diverse demographic, with a large rural and coastal community that faces many economic challenges and feels quite isolated from London,' says Christina Astin, head of partnerships at The King's School, an independent secondary in Canterbury. 'The aim of EKST was therefore to expand educational provision, increase social cohesion, and widen student horizons across the region.'
Initially, she admits, some state schools, were 'sceptical' of a partnership with the independent sector. However four non selective state schools (Herne Bay High School, Dover Christ Church Academy, St Anselm's Catholic School and Spires Academy) signed up, along with three independents (The King's School, St Edmund's School and St Lawrence College). The partnership was given added clout by the collaboration of Canterbury Christ Church University.
'Every partner school recognises that pupil experience is broadened by collaborating with young people from different backgrounds, and by experiencing an enriched education beyond the curriculum,' says Jon Boyes, principal of Herne Bay High. 'We all pay the same annual levy, but each school has made cost savings and received benefits-in-kind far in excess of that. The fact that we can demonstrate the different ways in which each school has benefited has enabled us secure additional funding to expand our work.'
Part of the levy goes towards a part-time coordinator, and EKST also received £5,000 in core costs for both 2018 and 2019 from The Lawson Trust, via the Kent Community Foundation. With such foundations in place, the partnership has been able to develop a range of events and projects for students. The Big Explore, for instance, was an outdoor pursuits experience for young people who needed help getting back on the right track, funded by local grant provider The Cleary Foundation. In early 2020 staff from all schools worked to organise The Big Chill – a 'getaway' event for Year 11 and 13 students feeling exam pressures. This involved a carousel of activities, from bookbinding to relaxation techniques and life-mapping, at a wellbeing centre run by The Bay Trust in St Margaret's Bay. Meanwhile, local grant provider The Crown Foundation (via Kent Community Foundation) and an anonymous donor each gave £5,000 to a collaborative art project which culminated in an exhibition of student work at Turner Contemporary.
On the strength of this track record, EKST has been awarded a DfE grant of £11,500 to run intervention workshops on wellbeing and confidence-building in each partner school over 15 months. These will offer support with oracy skills, personal statements, self-care sessions, mind-mapping tool-kits and study skills.
What makes this partnership work is its clear organisational structure and focus on making things happen. The headteachers meet as a steering group, and the programme is delivered by  a management group made up of representatives from each school and the university. There are cluster groups for every major curriculum subject, and also for finance, pastoral, SEN, and exam staff. This allows EKST to combine its expertise and experience to deliver CPD, rather than send staff to courses in London.  The university provides undergraduate outreach ambassadors to help facilitate events, and a Student Voice group organises fundraising events for charity.
We welcome colleagues from other schools to see what we are doing and are always happy to share ideas with others.  Get in touch if you'd like to visit.